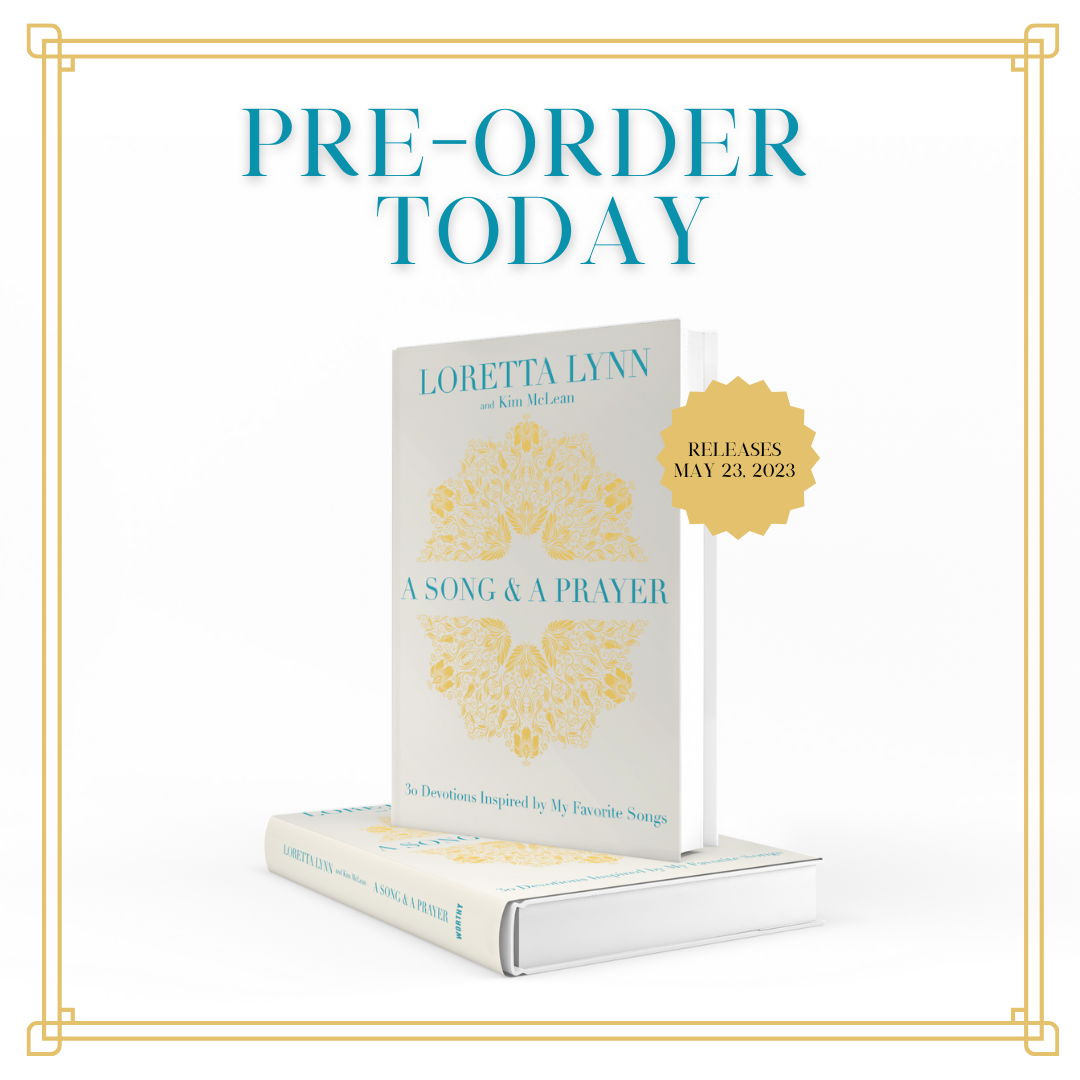 Loretta Lynn's family and estate will release a new book she completed just before her passing, A SONG AND A PRAYER, on May 23, 2023 from Worthy Books.
"Originally slated to come out in December, mom worked all summer to complete this book. It was so important to her because she had never devoted an entire book to her faith. Mom was always open about her faith but it was a deeply personal matter to her, one in which we knew at the core was the most important thing in her life. Her passing has made this project all the more special to us and we know her fans will feel the same way," said her daughter Patsy Lynn Russell.
It's been over sixty years since the late Loretta Lynn first rose to stardom, transforming from a coal miner's daughter to the Queen of Country Music. Loretta knew she was blessed—to record music, to sing her songs to such great crowds, and to write books. Her final offering, A Song and A Prayer, is a collection of prayers combined with song lyrics inspired by her songwriting sessions with fellow songwriter and co-author, ordained minister Dr. Kim McLean.
"My writing sessions with Loretta were inspired by our friendship and faith," said Dr. McLean. "I instantly realized she was an expert at pouring out her heart onto the pages. After sixty years of writing hard-truth songs and books about her life, she made writing another seem easy. The sincerity and depths of her personal faith astounded and touched me profoundly. We were similar in many ways and connected on a soul level, as her fans know she can do so intuitively. We laughed all the time we wrote, sometimes argued, then laughed again. Her ideas for the book were instinctively spot on and inspired me every session. She made clear how important this book was to her and I'm honored to have joined her on this beautiful project."
This volume will become a cherished companion for Loretta Lynn fans and readers everywhere as they strive to live each precious moment to the fullest and happiest. Through A Song and A Prayer, readers of all faiths and walks of life will have the opportunity to bask in a month's worth of spiritual encouragement from Loretta's own resilient faith. In a busy world, Loretta's lyrics and prayers remind readers that God loves them more than they could imagine.
###
Kim McLean is a Dove award-winning singer-songwriter, twice Grammy nominated. She has garnered awards from N.S.A.I., ASCAP, and the Just Plain Folks Americana Song of the Year, and has TV/Film credits that include shows on NBC, CBS, and ABC. She is a music producer and has worked with major labels, Curb and Sony, as well as many indie artists. Kim travels extensively as a keynote speaker/singer. She was instrumental in developing a songwriting program at Trevecca University in Nashville which she directed for over a decade. She earned her MA in religion in 2008 and is an ordained minister in the Church of the Nazarene as well as a Doctor of Education. She has served as a worship leader and is currently the lead pastor of Music City West Church in Nashville, TN.