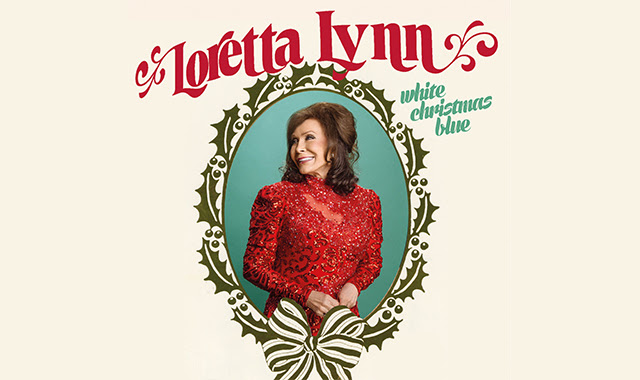 Country Music Hall of Fame member Loretta Lynn will lend her voice to "CMA Country Christmas," airing Monday, Nov. 28 (8:00-10:00 PM/ET) on the ABC Television Network.
The iconic Country Music star released her new holiday album, White Christmas Blue, on Oct. 7. The album debuts "White Christmas Blue," a future yuletide classic newly penned by Lynn and Grammy Award winner Shawn Camp. White Christmas Blue is the second volume of the Cash Cabin Recordings and part of a planned multi-album deal with Legacy Recordings (a division of Sony Music Entertainment). White Christmas Blue is the celebratory successor to Lynn's first Legacy release, Full Circle (her 40th Top 10 Country album and her highest-charting album ever on the Billboard Top 200). For more information, visit LorettaLynn.com.
This marks Lynn's first appearance on the two-hour holiday special, which will be hosted for the seventh year by Jennifer Nettles.
Scheduled to be taped at the Grand Ole Opry House on Tuesday, Nov. 8 (7:00 PM/CT; doors open from 5:30-6:30 PM/CT), "CMA Country Christmas" is a celebration of the season featuring inspired performances from Joey Alexander, Kelsea Ballerini, Kelly Clarkson, Andra Day, Brett Eldredge, Amy Grant, Lynn, Sarah McLachlan, Idina Menzel, Kacey Musgraves, Nettles, Brad Paisley, Rascal Flatts, Jordan Smith, Trisha Yearwood, and Chris Young.
A popular feature of the "CMA Country Christmas" taping is a toy drive. Audience members are invited to bring an unwrapped toy for deserving children in need throughout Middle Tennessee.
In 2015, through a partnership with ABC Television Network and the U.S. Marine Corps' Toys for Tots program, CMA collected more than 5,000 unwrapped gifts.
For updates and information visit CMAChristmas.com or follow us on Twitter @Countrymusic.