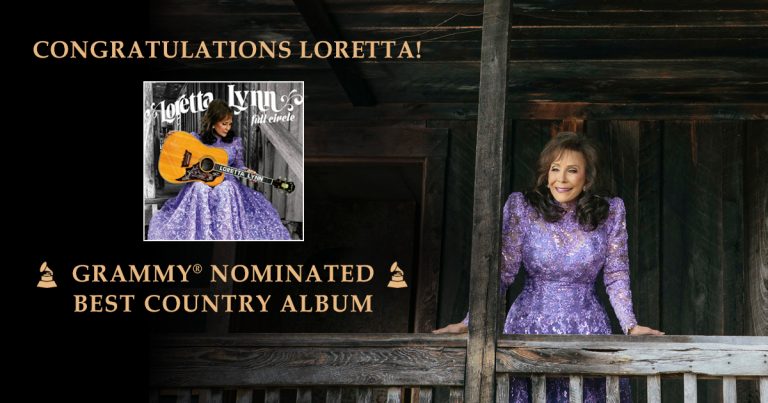 2017 is already shaping up as a banner year in the life and career of American music icon Loretta Lynn, whose album, Full Circle, has received a Grammy nomination for Best Country Album.
Released to universal acclaim in March 2016, Full Circle was recorded at the Cash Cabin Studio in Hendersonville, Tennessee and was produced by Patsy Lynn Russell and John Carter Cash. Full Circle is available now on CD, LP and digitally, please visit: https://lorettalynn.lnk.to/54_0Zpr.
Her first studio album for Legacy Recordings, Full Circle is also Loretta's first album of new recordings since Van Lear Rose, her 2004 collaboration with Jack White which took home a pair of Grammys including Best Country Album and Best Country Collaboration with Vocals (for "Portland, Oregon"). Full Circle is Loretta Lynn's 40th Top 10 Country album and the highest-charting album she's ever had on the Billboard 200. To-date, Loretta Lynn has been awarded four Grammys including the prestigious Grammy Lifetime Achievement Award in 2010.
"I've enjoyed making music for 56 years now," said Loretta when hearing that Full Circle was nominated for the Grammy for Best Country Album. "It feels good to know that people are still listening and appreciate what I do. I'm so thankful and proud."
A favorite with both critics and fans, Full Circle has been prominent on many 2016 Year End Best Of Lists."….strong enough to stand as a career capper – but it's lively enough to suggest she's far from ready to quit," wrote Rolling Stone in its 40 Best Country Albums of 2016 list while Entertainment Weekly called it "…one of her warmest, most memorable collections ever. That her gorgeous, distinctive vocal has lost none of its shine is just the cherry on top." "Her clear, honey-sweet voice twangs earnestly, resolutely, and without a scrap of hesitation," observed Noisey, "because even at age 84, the coal miner's daughter is still a force of nature."
As part of its 50th anniversary commemoration, the Country Music Hall of Fame® and Museum is mounting a major exhibition–opening on August 25, 2017–focused on the life, art and music of Loretta Lynn. "I am so happy the Country Music Hall of Fame has asked me to be one of their main exhibits in 2017…gonna show off my 50 some odd years in country music!," exclaimed Loretta on hearing news of the exhibition. "They best have a big space…I have a lot of stuff!  I'm so proud to share my life, and music with the Hall of Fame.  Y'all come see us!"
With her 85th birthday coming up on April 14, the fabled Ryman Auditorium in Nashville has slated two celebratory shows for April 14 and April 15.
PBS will be re-airing the acclaimed "American Masters – Loretta Lynn: Still a Mountain Girl" on January 27, 2017 at 10pm. The documentary had its world premiere on March 4, 2016, on the same day as the release of Full Circle.
Loretta Lynn 2017 Concerts
Feb 17 The Mahaffey Theater St Petersburg, FL
Feb 18 Alabama Theater North Myrtle Beach, SC
Mar 03 Gruene Hall New Braunfels, TX Sold Out
Mar 04 Gruene Hall New Braunfels, TX Sold Out
Mar 31 Louisville Palace Louisville, KY
April 01 Americana Spring Celebration at Blackberry Farm, Walland, TN
Apr 07 Gaillard Auditorium Charleston, SC
Apr 14 Ryman Auditorium Nashville, TN
Apr 15 Ryman Auditorium Nashville, TN
Apr 21 Tilles Center Concert Hall Brookville, NY
Apr 22 The Tarrytown Music Hall Tarrytown, NY
May 12 Penn's Peak Jim Thorpe, PA
May 13 Beacon Theatre Richmond, VA
Sep 09 Shipshewana Event Center Shipshewana, IN