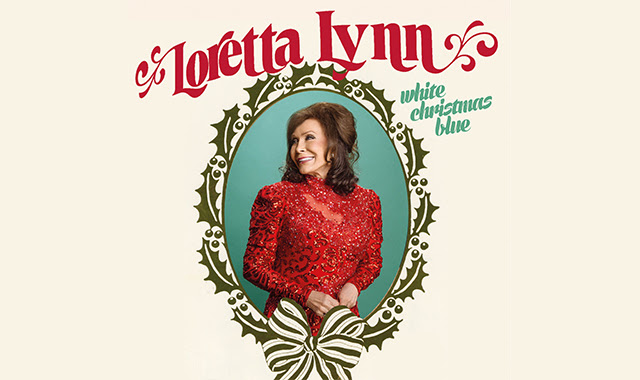 2016 has been a great year for Loretta Lynn. The Queen of Country Music broke a decade-long gap between albums earlier this year with the release of Full Circle, her 40th Top 10 country album and her highest-charting effort on the Billboard 200. With the Christmas season mere months away (believe it or not), we're excited to announce her next album, White Christmas Blue, will be available on October 7.
It's Loretta's first holiday album in 50 years; her last seasonal release, 1966's Country Christmas, was recorded toward the beginning of a career that's seen her break barriers in country music and be inducted into more music halls of fame than any other female musician. As a tribute to her first Christmas record, White Christmas Blue features new recordings of two songs from that album: the spirited "Country Christmas" and the humorous "To Heck with Ole Santa Claus."
The jewel of the new album is "White Christmas Blue," a brand-new track Loretta wrote with songwriter Shawn Camp, who's written country chart-toppers for Garth Brooks, Josh Turner and Brooks & Dunn. "White Christmas Blue" is sure to find a spot on your holiday playlists for years to come. Best of all, the White Christmas Blue album features your favorite Christmas songs as only Loretta can sing them: "Frosty the Snowman," "Jingle Bells," "Winter Wonderland," "Silent Night" and more.
No matter where you may live, White Christmas Blue will bring a piece of Butcher Hollow, Kentucky to your home this holiday season. Pre-order your copy today!