Hurricane Mills, TN—The undisputed Queen of Country music may be 86 years old but she has done anything but abdicate her throne. The American Country music legend, known for her pure country sound and down to earth, authentic songs, has been nominated for another Grammy for her heartfelt song, "Wouldn't It Be Great?." Lynn is the winner of three Grammys previously and the recipient of an astounding 18 Grammy nominations. Beginning with her first nomination in 1966, Lynn has received a Grammy nomination every single decade for the past six decades! For sixty years now, Loretta Lynn continues to wow her fans and the music industry with her songwriting and music.
"Wouldn't It be Great?" is a heartbreaker that causes listeners to run the gamut of emotions, as they sympathize, hope with faith, and relate to the pain one feels when seeking the best for those they love. The last song Loretta ever wrote for her husband of 48 years, Doolittle, it tackles head on that their marriage and love story was impacted by the real life struggles and pains of alcoholism. The authenticity and emotion in Loretta's voice is chilling as she hits the chorus with the imploring question, "Wouldn't it be great?"… if those we love could be free of all that torments them and impacts everyone around them. Her powerful vocals, at 86 years young, will leave you both in awe and delighted. This song is powerful and captures the most vulnerable and sincere aspects of Loretta Lynn's life.
Loretta said, "This nomination is the best Christmas gift ever! This song is so special to me because it's the last one I wrote for my husband and it has so much meaning to me. This nomination really means the world to me."
Lynn continues in legendary status simply because she is Loretta. This nomination is both deserving and fitting for a Kentucky girl who has shared her heart and her stories with a nation, bringing us a lifetime of outstanding music.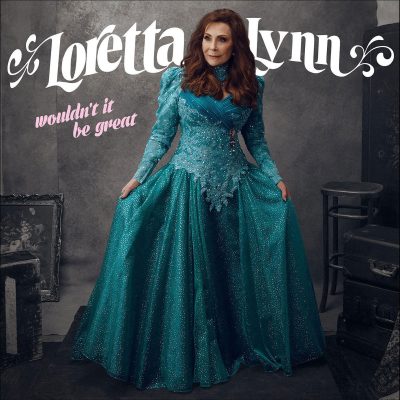 Get Wouldn't It Be Great now at https://lorettalynn.lnk.to/WIBG!grammy