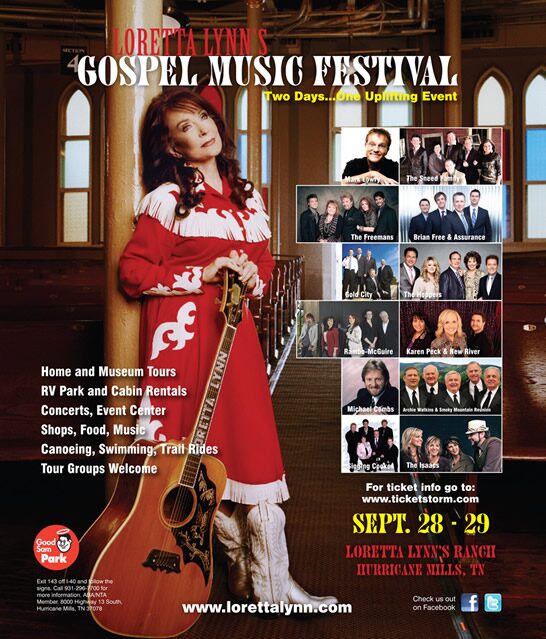 Loretta Lynn's inaugural Gospel Music Festival is getting major support and media coverage this week. The Loretta Lynn Ranch will play host to the first Loretta Lynn Gospel Music Festival in September 2013.
"Its kind of like an old-time all-day singing and dinner on the ground," Loretta said. "I got to thinking. I have a big ranch where I live so I decided to throw a good ole Gospel weekend here! I want family and friends to bring a blanket, set up a picnic and then enjoy some of my favorite Gospel music singers! I may even come down and sing a song myself!
"I hope it will be something we can keep going every year," she continued. "I already have a big campground and cabins where people can stay. We also have a big stage – we have concerts all summer and have done so since 1974."
Scheduled to appear are Mark Lowry, The Hoppers, The Isaacs, Karen Peck & New River, Gold City, Rambo-McGuire, The Singing Cookes, The Freemans, Brian Free & Assurance, Michael Combs, Archie Watkins & Smoky Mountain Reunion, and The Sneed Family. For early arrivals, there will be a special bonfire and sing-a-long on September 27.
"I should have started this years ago," Loretta said. "But, it's never too late – I am inviting everyone to my ranch to have a great ole Gospel time! It'll be a fun time for the whole family. Speaking of family, I want to thank Jeff Sneed and The Sneed Family for helping me plan and promote this Gospel Music Festival. We sure are looking forward to this special time!"
MEDIA COVERAGE FOR THE EVENT INCLUDES: