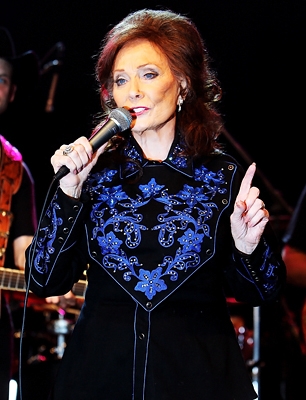 September 3, 2013 3:55 PM ET
Loretta Lynn has a slew of projects ready for release, but she also hopes to start one with a familiar former collaborator.
"I think I'm going to go after Jack White and give him another call to do another album," the country singer told Billboard in a recent interview. White produced, sang and played various instruments on Lynn's 2004 record Van Lear Rose. Their experiment was a smash success, receiving heaps of critical praise.
While fans of Van Lear keep their fingers crossed for a reunion, Lynn will remain active; she says she's got about 19 projects already finished. These include a Christmas album, a religious album and a record of mountain songs she recorded with Shawn Camp.
As for White — who released his debut solo effort, Blunderbuss, last year — he's returned to the studio with the Dead Weather, who have been silent since they wrapped up an extensive tour following the release of their 2010 debut, Sea of Cowards. In an interview with Rolling Stone earlier this year, White mentioned the group was spending a lot of time together both in and out of the studio: "All the Raconteurs and all the Dead Weather live in Nashville now, so we often go on trips together, because we're all just good pals. We've recorded some things, too."
SOURCE URL: http://www.rollingstone.com/music/news/loretta-lynn-eyes-another-album-with-jack-white-20130903